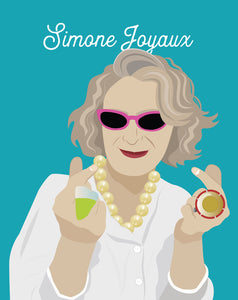 Simone Joyaux Feminist Art Print - Poppermost Prints
Poppermost
Regular price $15.00 Sale
A print honouring our friend and colleague, Simone Joyaux who was one of the nonprofit sector's most thoughtful, inspirational, and provocative leaders. 
We asked Kristie Ryder of Poppermost Prints in Hamilton if she would be interested in drawing a portrait of Simone and couldn't be more pleased with what she came up with!
Proceeds from the sale of this print will be donated to the Women's Fund of Rhode Island, to honour Simone and continue funding her important work.
 Simone was the founding member in 2000, here's is what she had to say:
"For women and girls in Rhode Island, the playing field isn't level yet. But it could be, with your help. That's the call to action. Asking you and me and others to act now, to fight for equity for women."
Thanks Simone. A true pioneer, badass, feminist and inspiration; we miss you.